2015-02-08 15:18:04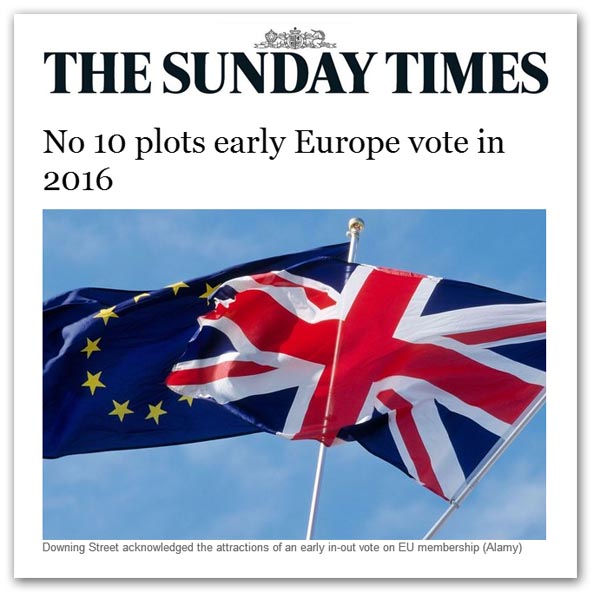 The
Sunday Times
is running a story based on ill-founded gossip to the effect that David Cameron is planning to bring the EU referendum forward to 2016, if his party is elected to office.
The story itself carries its own caveat, contradicting its own headline, by having Downing Street deny that there is "a secret plan" for an early referendum. But then, in the classic way newspapers have of trying to give credibility to an empty story, we get an unnamed "source close to the prime minister" who "did not deny that an early referendum is under discussion".
We also get a "source close to the prime minister" – with no indication of whether this is the same or a different source – saying: "The honest position is that he (David Cameron) hasn't made a decision on it yet". This source goes on to say that there was always concern about the French and German elections, which fall in mid-2017, and then concedes that "the idea that we have cooked up a secret plan is wrong".
Gossip about a 2016 referendum actually reached us earlier this week, with the source attributed to Tory-supporting Matthew Elliott of
Business for Britain (BfB)
. The rumour, it seems, is partly based on the loose interpretation of
Davis Cameron's misleading response
to Andrew Marr last month, when he said he would be "delighted" if the referendum could be brought forward.
One disturbing note in the
Sunday Times
piece, though, is that the comment that Daniel Korski, "Cameron's Downing Street point man on Europe", is in regular contact with senior figures in European pressure groups "who would lead the 'in' and 'out' referendum campaigns" — as often as two or three times a day, according to one source.
This, to say the very least, is presumptuous. It is not Downing Street – much less rabid Europhile Daniel Korski – who decides which organisations will lead the respective campaigns, much as they would like to stitch up the referendum with their preferred people in place to control the agendas.
Rather, the choice of lead campaigners is the responsibility of the Electoral Commission, based on a formal bidding process which is open to all comers. Most likely, there will be several bidders to lead the "out" campaign. Nothing is at all settled – even if there is a concerted attempt to position the self-important Mr Elliott as the heir apparent.
His
Business for Britain
platform is reported as "making contingency plans for a 2016 vote", as indeed is the rival
British Influence
. This, though, probably has more to do with maintaining cash flow. Sponsors are more likely to open their wallets if they believe a contest is imminent.
As to the substantive issue, there are, of course, many powerful reasons why an early referendum is unlikely. Not least, there must be a Referendum Bill passed through Parliament, and any attempt to rush it through would doubtless meet with stiff opposition from both sides of the divide, who could build all sorts of delays into the Parliamentary timetable and stop an early contest.
But just as powerful is Cameron's need to conclude plausible negotiations. Any pressure to push for an early resolution from the "colleagues" risks one or more member states blocking his moves with the risk of an embarrassing failure.
Yet, such is the limited knowledge of the tactical situation that, built into the
Sunday Times
narrative is the weary and discredited mantra that Cameron will use his renegotiation "to issue demands to end the principle of ever-closer union, crack down on red tape, get more powers for national parliaments in the EU and strengthen the single market".
In addition, we are told, he will add demands on immigration from his speech last November, in which he called for a ban on immigrants receiving benefits for a minimum of four years.
In this, there is not the slightest recognition that the full agenda is impossible to achieve in the timescale, or that the game may have changed. Cameron has opened the way for an Article 48 "simplified procedure" treaty, based on minimal changes to the freedom of movement provisions in Part III.
Ed Llewellyn, Cameron's chief of staff, is said to think it would be "a tall order" to get the renegotiation done before 2017, and that is indeed the case – even on the basis of the simplified procedure. The sort of negotiations BfB has in mind are simply neither possible nor credible if even the 2017 timescale is to be met.
Still though we have a BfB spokesman bleating that, "Eurosceptics will fear that a swift renegotiation means that the scope of it will be limited", then adding: "We need to make sure we get the reform that is necessary".
But what we actually need to be doing is warning the public about the options available to Mr Cameron, and the danger of the Article 48 "simplified procedure" ploy – something to which BfB seems to be totally oblivious.
Only recently,
we reported
that things seemed to be moving Mr Cameron's way, with Hungary demanding tighter rules on freedom of movement, something it
has repeated
more recently. Then,
yesterday
we saw the results of a poll which indicated that some EU Member States were moving to embrace our prime minister's "reform" agenda.
In particular, significant numbers of voters back Mr Cameron's call for changes to freedom of movement rules. Some 65 percent of people in France believed that there should either be greater controls on freedom of movement -or that it should be scrapped entirely.
Of the Germans surveyed, 48 per cent agreed that there should be greater reforms to freedom of movement rules or a complete scrapping of the system. In the Netherlands, 70 percent of those polled wanted major changes to freedom of movement rules.
Bearing in mind that a treaty agreement requires unanimity, Mr Cameron has a long way to go, and it would be madness for him to force the pace with the risk of losing a winnable hand.
That alone strongly suggests that Mr Cameron is going to play a cautious game, pointing again to the lack of political acumen displayed by the Westminster "bubble" which is so often and so easily trapped into believing its own empty gossip.
And this reinforces our view that, to lead the "out" campaign, we need a much broader alliance than the Westminster "bubble" can deliver. As it stands, the default mode for the referendum is that we lose – so if we are to have any chance of winning, we need more than a gossip-driven campaign run by a London-based claque.
UPDATE:
No 10 has
categorically denied
that they have any plans to hold a referendum in 2016. Senior officials insist up to two years will be needed to secure a successful renegotiation with the other EU countries.
This, as argued in the main post, must be evident to anyone who has any understanding of the processes involved, making the idea of a 2016 referendum an absurd proposition.
Yet, on the basis of what amounts to low-grade gossip, the
Sunday Times
was prepared to run this story, sourced almost entirely from Matthew Elliott, who has been pushing this line for most of the week, to anyone who would listen.
This would be vaguely amusing if it wasn't for the fact that this is the man who is being actively slated as the man to lead the "out" campaign, and has made no secret of his ambitions to do so. Yet, time and again, in campaigning terms, he displays the tactical acumen of a slug with salt on its back.
Elliott and his
Business for Britain
luvvies are wedded to the "renegotiation" meme, arguing for "
one final push
" on the EU, in the manner of WWI generals sending their troops over the top, for "one last time".
They regard the referendum primarily as "crucial leverage" in the process of negotiating a "better deal for Britain". Only if the renegotiations fail, or not match up to expectations will they then argue for an exit, which means that only at the eleventh hour will they begin to construct a coherent exit plan, vital for a successful "out" campaign.
The likes of Elliott, therefore, would have us going into a referendum campaign dangerously unprepared. And with their almost total lack of appreciation of Mr Cameron's tactics, they will almost certainly be wrong-footed at every turn.
After all these decades, the anti-EU movement deserves something better than a campaign devised by an ambitious careerist, determined to use it as a platform to further his own career. That the media (which we expect to support the "in" campaign) sees in Mr Elliott a potential "out" campaign leader tells us a great deal.

They do, however, presume too much. The structure and leadership of any campaign should be decided by the broad base of those activists who are going to have to fight the battles – not on the basis of giving career opportunities to tactically inept opportunists.