14/01/2017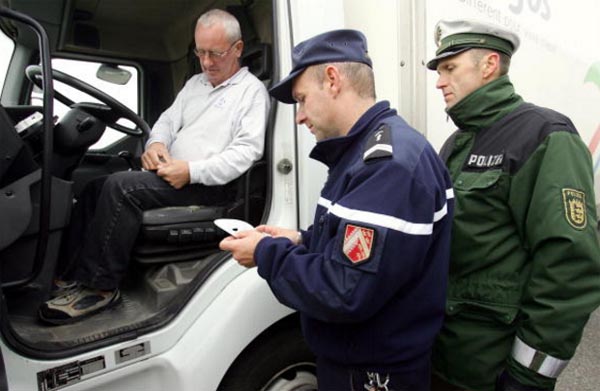 The zombies are in full spate – the latest being the foolish
Syed Kamall
, adding his name to the list of people telling Mrs May that she must "walk away" from the Article 50 negotiations if she doesn't get a deal "we are happy with".
Meanwhile, we've continued wondering about what precisely would happen to UK exports if we walk away without an agreement. And while we've so far been focusing on the treatment of trucks using the Channel ports, we've been most concerned with the effect of the lack of agreed customs arrangements.
However, this is only one element with which truck drivers have to concern themselves. The haulage industry is a highly regulated business, much of which relies of EU law, while the ability of British firms to operate vehicles on the Continent depends to a great extent on mutual recognition provisions, also mandated by EU law.
In the first instance, the truck drivers must themselves be licensed to drive their vehicles, to which effect they must hold the relevant category of driver's licences, issued by the national authority (DVLA). Permission for license-holders to drive on the roads of other EU Member States is conferred, in the first instance, by the
Directive 2006/126/EC
, which makes provision for all licenses (and their categories) to be mutually recognised.
Potentially, if we leave the EU without agreement on covering arrangements, the mutual recognition could fall, and UK-licensed drivers will no longer be able to drive under that authority once they cross the Channel.
That, though, should not be taken as a given. The EU law comes in the form of a Directive and has been transposed into the legal codes of all 28 EU Member States, with parallel provisions in the three Efta-EEA States, and Switzerland.
This is the case with the UK, where drivers holding what are called "Community licences" are permitted to drive on UK roads without any other documentation. We see a raft of legislation, over term, such as the
The Driving Licences (Community Driving Licence) Regulations 1996
, which have given effect to the EU law, making the mutual recognition dependent on UK regulations.
What is important in this context is the wording. There are references in the UK legislation to holders of "Community licences", to "Member States" and to "EEA states", which could be taken as making the permission to drive dependent on current membership of the EU/EEA.
How that affects UK drivers in EEA states would depend on the precise wording of the implementing laws in each of the states. If there are specific references to the UK without direct linkage to EEA membership, then UK licenses might remain valid. If, on the other hand, the wording is such that recognition is made dependent on EEA membership, there could be problems.
In short, it is not possible to ascertain exactly what the situation is regarding driving licences without going through the laws of all 30 of the other EEA members. It could well turn out that UK drivers will be able to drive in some countries but not others.
Then there is a situation that will arise when licences expire. Once we are out of the EU, the UK will no longer be able to issue Community licences, while the new UK design will not be recognised by EU Member States unless there are new mutual recognition agreements.
In normal circumstances, continuing such arrangements would not present the slightest problem. But if the UK decides to walk away from the table, there will be no dialogue and no mechanism for renewing agreements. Millions of drivers could find themselves having to apply for International Driving Permits – for private cars and well as trucks and buses.
Private car drivers might find this something of an inconvenience, especially as the permits are only valid for a year. UK citizens resident in EEA states might find themselves having to re-take their driving tests in their adopted countries, in order to continue driving.
For professional drivers of buses and HGVs, though, the problems multiply. They not only need the relevant licenses but, under EU rules, require additional "periodic training". Each must then hold a "certificate of professional competence" (CPC). Currently this requirement is mandated by
Directive 2003/59/EC
, another law which makes provision for mutual recognition alongside
Council Directive 96/26/EC
.
These provisions are
implemented in the UK
by the Vehicle Drivers (Certificates of Professional Competence) Regulations 2007, as amended, which define the CPC by reference to the seventh recital of the 2003 Directive.
These Regulations (and amendments) would, of course, remain in force after Brexit so the UK would continue to recognise the qualifications of drivers from EU Member States. But if their regulations are couched in the same terms as ours, UK CPC documentation may not be accepted in the EEA as we will no longer be a Member State.
Moving on from the drivers, there is a further tranche of regulation applying to transport operations themselves. No one is allowed to go into the haulage business without an operator's license. These are granted in accordance with
Regulation 1071/2009/EC
which establishes common rules concerning the conditions to be complied with to pursue the occupation of road transport operator.
As EU regulations, these would cease to apply once we leave the EU. Re-enacting them via the Great Repeal Bill would not make any difference to UK truckers seeking to drive in EU territories. While the Bill (once passed) would keep our system in place, without recourse to an international agreement, EU Member States would not be required to recognise our transport operators.
The same applies to
Regulation 1072/2009/EC
on common rules for access to the international road haulage market. Amongst other thing, this deals with the rules for cabotage, which have significant commercial significance for UK hauliers. Any rights they have will be lost, unless there is a specific agreement that allows us to continue benefiting from them.
With regard to operator licenses, what will really make a big difference is
Commission Implementing Regulation 2016/480/EU
, establishing common rules concerning the interconnection of national electronic registers on road transport undertakings, setting up the so-called ERRU (European Registers of Road Transport Undertakings).
This provides for a common database by which the different national authorities can verify whether a transport operator is properly authorised. Post-Brexit, the UK will no longer be part of this system, unless we negotiate continued access. This, of course, won't happen if we walk away from the table.
Even now, we're not finished as there us the small matter of the
Motor Insurance Directive
which has
certain provisions
which make life simpler for British operators. There are also other areas that need looking at, such as the
Working Time Directive
in relation to driver's hours. It is acknowledged that there will be
no change
in the UK in the immediate future, but
Regulation 561/2006/EC
falls when Brexit cuts in.
Then there is the
roadworthiness package
which deals with such things as MOT tests and roadside checks. The Directive,
2009/40/EC
, is yet another which deals with mutual recognition of test certificates. Whether or not EU Member States will continue to recognise UK-issued certificates, after Brexit, remains to be seen.
Putting all this together, we are not making a "project fear" type of case that trucking in the EU comes crashing to a halt the moment we leave. Road haulage is a stable, mature industry where the regulatory environment is equally stable and well-understood, and where the UK is fully convergent with EU law.
Thus, we would expect in the ordinary course of events that post-Brexit continuity can be quickly and easily negotiated and any rough edges smoothed over before we leave. But therein lies the rub. While the necessary negotiations will most likely be uncontroversial, it has been
assumed
that alternative arrangements will be made. It is unlikely that a smooth exit can be achieved without fairly detailed technical talks, with firm agreements made to carry us over into the post-Brexit world.
Yet this is exactly where we will be if the "walk-away" zombies have their way, leaving the table with no deals – on anything. The chances then of the haulage industry enjoying a seam-free Brexit look extremely slim.
Logically, issues have to be addressed before we leave, which makes walking away without a deal a fool's errand. Those advocating this as a possibility are driving us to distraction.