2015-02-02 08:27:59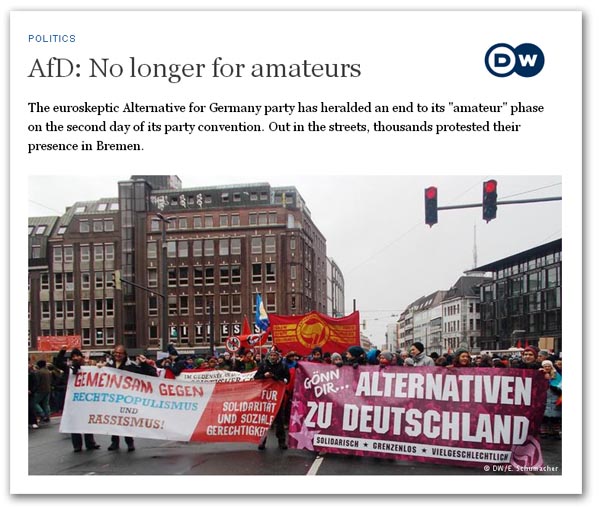 In an remarkable contrast with the stance taken by Ukip, the "eurosceptic" AfD has come out of its party convention at Congress Centre Bremen
declaring that
its "amateur" phase is over.
Founder Bernd Lucke explained to his 1,600 members that his party's current three-leader structure was "amateurish" and in need of "professionalisation". "We are not a bowling club", the party co-chair added. Lucke was to get his way and the AfD is to have just one leader as from December. He says the candidates for the post will not be announced until spring, but he is expected to in pole position.
The new structure also includes a party secretary and vice chair, leaving possible space at the top for current co-chairs Frauke Petry and Konrad Adam, who since 2013 have helped Lucke turn the party into a steadily growing movement with seats in several state parliaments as well as at the EU level.
Petry is something of a political hero, having condemned Lucke's support for sanctions against Russia in the European Parliament, of which he is a member. According to flyers lying on every flat surface in the hall, it's the US and NATO who are expanding their empires, not Russia.
Nevertheless, Lucke's supporters are jubilant about his success, even though there were around 7,000 people on the streets outside protesting about the AfD presence in their city. Bremen, though, was a strategic choice, as the AfD is garnering most of its support from the East, and they are trying to gather support in West Germany.
The party is producing some interesting vibes, with Hagen Weiss, the 25-year-old vice president of the Young Alternative (JA) talking of their immigration policy. Canada, he says, is the "model" to emulate, saying the AfD would like to implement a system similar to that nation's points system.
Interestingly, Internal Affairs Minister Thomas de Maizière is calling the party out on this,
dismissing those
who are calling for new laws. "What do they actually want?", he asks. "To make existing law more clear and put a different title on it? Or other regulations?" If other regulations are desired, then it should be clear which ones, he says. "And the fact that the SPD and the AfD now both want a new immigration law" makes him "rather sceptical".
But this is getting even more weird, as Merkel's Bavarian partner CSU is also
getting stuck in
, calling for an asylum crackdown, proposing tougher rules for asylum seekers.
Gerd Müller, a CSU cabinet minister, has criticised Merkel for her attack on demonstrations against Islamisation, warning against ostracising the protesters, telling the German media that the "overwhelming" majority were "not racist"" and poorer Germans felt they were losing out because of the aid given to refugees.
The exchanges, we are told, indicate how Germany's mainstream politicians are struggling to come to terms with a rapid increase in refugees. The inflows have stirred public concern, with citizens flocking to anti-Islamisation protests in Dresden and other cities, and complaining about the costs and burdens of housing migrants.
But it is not only Germany where there are rumblings. Prime Minister Viktor Orban
is complaining
that he does not want his country to become a target country for economic immigrants. There are masses of people arriving in Hungary who are obviously not persecuted at home but are in search of a better living, he complains. They claim to be subjects of political exile in order to get favourable assessment by the immigration authorities, says Orban.
Although many of them currently leave Hungary, after the terrorist attacks in Paris, countries preferred by economic immigrants will introduce stricter regulations and many migrants will be stuck in Hungary, he says, adding: "I do not want this and I think the majority of Hungarians do not want that either". Hungary does not promote an anti-immigration stand
he says
, but he wants to see more sensible immigration policies in Europe.
All of this makes for extremely interesting times. The political establishment is hitting a patch of turbulence and there is a rough ride ahead. Mr Cameron's little ploy on immigration may find more fertile ground than at first was imagined. Here as well, amateur time is over - just nobody told Ukip.